SPOTTED: Miss Shopaholic's Closet
Them studded shoes sure are making a big name in the shopping scene, can? Looks like everyone and every kind of shoes have got them studs on them! Woot! I sure loike it and have you counted how many pairs of studded shoes you've got? *winks*
SPOTTED: Diva's Fashionista
This is something I haven't seen in a real long while alright. That Peter Pan collar pinstriped vest sure is a must have! Very smart casual, perfect for both work and play! Woot!
SPOTTED: Snazzy Sally
Ahh.. for those of you who love layering, then this one here is definitely a good choice! Sheer material and with big buttons too, what's there not to like about this one already? *grins* Tee-hee
SPOTTED: Unitender Blush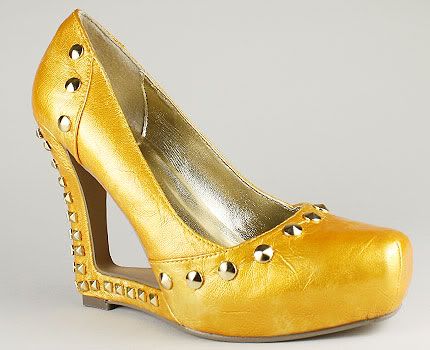 And we got even more studs! Plus, check out that heel there, woot! This sure is one of a kind alright! *grins* Yellow shoes, great design, awesome heel, a must have already babes!
SPOTTED: Trendy Confessions
There we have more of them tea dresses! Pretty and fun all at the same time, no? *giggles* And it's even got this keyhole feature at the back of the dress as well too! How awesome! Oh, this is just one of the many designs available, can?
SPOTTED: Pretty Ever After
Ahh.. them vintage-like sling bags! Looks like we're really hitting retro by bringing back what's old as the new gold! But hey, you've got to admit that they look pretty awesome, no? *winks*
SPOTTED: Yeah Collection
Not only do we have the blackhead masks from Shiseido, but now we even facial masks as well too! Tee-hee. Sure is awesome to have so many beauty products available for us, no?
SPOTTED: Your One Stop Boutique
Ahh.. this one here is by Fossil and sure is looking good. I'm not one to change my watch often, but if you're one to collect 'em, then this is the place you should totally visit already! Woot!
SPOTTED: Nunfish
Exposed zippers s'more! And this one here ain't no dress but a pantsuit, can? What fun! *grins* And why wouldn't you wanna have something like that? After all, it's a good combo of the best of both designs!
SPOTTED: Cookie Crew
And for that dinner? Or maybe even prom, try something in electric blue instead of the usual black *winks* Throw on a cincher or those obi belts to make this simple dress look extraordinary!
XOXO,
Your sister in shopping